ONLINE BANKING UPGRADE
Get ready for some excellent features and tools to make your financial experience easier and more convenient!

Immediate Attention Required!
All Members need to

re-register

to access your new online & mobile banking platformS
Desktop users,

click here

. Mobile users must download the new Levo app in the App Store or Google Play.
Mobile app users may also use the QR codes:

Click Register (Desktop) or Enroll (Mobile), and enter the required info. Your member number can be found at the top of your statement or at the bottom of your checks.
Create your new username and password. (Your existing username and password may be reused if they are available.)
Be sure to check your email inbox, as you will need to verify your registration before you can begin using the new Levo Online Banking platform.
Please call us at 605-334-2471 if you need assistance.
FAQS TO HELP GUIDE YOU THROUGH THE UPGRADE PROCESS
We're committed to providing technology to help our members better manage their finances. This upgrade will modernize your Digital Banking experience. Switching between devices will be seamless and provide you with a much better interface that is faster, simpler, and easier to use.
On September 26th, the current Online Banking and Mobile Banking platforms will roll into the same, seamless Digital Banking Experience—with all the features you would expect to have in both!
Yes, after the upgrade on September 26th, it will be necessary for you to re-register. You can register either from our online page at levo.org, or by downloading the new Mobile Banking app.
Note: The current mobile app will not function after the upgrade.
1. Social Security Number (SSN)
2. Date of Birth
3. Account Number – your account number appears on your statement.
Your account number is located at the top of your statements or on the bottom of your checks. You can also find it on your member ID card that was provided when you became a member.
Yes, the current Levo mobile app will no longer function after the upgrade. Please download the new mobile app to your phone or mobile device from the App Store® or Google Play™.
Yes, one of the great new features is the ability to register using Mobile Banking. It is no longer necessary to register in Online Banking first. The registration process is the same on a mobile device as it is on a laptop or desktop. Your new username and password will be the same for both.
This helps keep your information safe. Here's how it works: if you get a new phone, clear the history on your current phone, or return your phone to factory settings. You will require a new PIN to register your device with our service provider. The PIN will be sent to the cell phone as a text or to the email address on file and is good for 5 minutes from the time of issue. Step 3 in registering your device will be to enter the temporary verification PIN and this will allow you back into the mobile app. Once your device is registered initially, you will no longer need to have the PIN.
Log in again to trigger a new PIN.
Once you download the Levo mobile app on the new device you will need to attempt to log in with your Username and Password. This will prompt the system to send a verification PIN to the email we have on file.
If you are currently enrolled in eStatements, 18 months' worth of statements are expected to carry over to the new platform.
Six months' worth of transaction history is expected to carry over. We recommend you print to PDF if you need to access any earlier transaction data prior to September 26, 2022.
Yes. If you currently use Bill Pay and are the primary account holder, the past 3 months of payment history will carry over.
That depends. After conversion to Digital Banking, if you are a joint owner of an account and you have at least one account that you are primary owner of, you will not need a separate username or password. If you have a primary account, simply sign on and you will have access to all accounts your Social Security Number (SSN) or Employer Identification Number (EIN) is associated with. However, if a joint owner is just a joint owner of an account, they will need to re-register just like the primary owner and create their own username and password. Members should never share or request to share credentials. Joint owners will see the accounts and loans to which you have access.
The upgrade comes with enhanced security features. For example, if you have too many failed log in attempts, either your username or your device could be locked. Please wait 20 minutes to try again or try on another device. Also, make sure you've completed the email authentication process.
No. Any previously set alerts will not transfer to the new system. You will need to re-enroll in account alerts through the new platform.
Yes, after the conversion, you will continue to see all of your credit union accounts as you do today, plus any accounts on which you are joint owner.
The upgraded Online Banking will support the latest versions of Chrome, Safari, and Microsoft Edge.
Yes. It wasn't possible with our previous system, but this is an improvement many of you have been asking for! Joint owners can have two separate accounts. You will be able to see all accounts with which your social security number is associated. That way if you and your co-owner like to see information set up differently, you can!
The new platform recognizes you in a different way than the old one did. For enhanced account security, the new platform only serves you information about accounts tied to your social security number. If your social security number is not tied to an account that you would like information about, you can simply contact the account owner and ask them to grant you access through the Authorized Users tab. This includes business accounts previously tied to someone else's social security number.
If you have a business account that was previously registered with a TIN/EIN or need to access information about a business account registered under a TIN/EIN, the primary authorized user or account owner will need to log in by registering the business account using the TIN/EIN, then give out permissions through the Authorized Users tab.
Here are examples to illustrate the two ways to see a business account, depending on how the account is set up:
Example 1: Business Account Set Up Under Personal Social Security Number (SSN)
If the business account is set up under a personal SSN, that person will see the account included in their personal accounts. For example, you own a business called Best Ever with the account number #xxx910 that was registered with your SSN, xxx1234. When you log in under your personal account xxx678, you will see your business account #xxx910 because your SSN is directly tied to the primary name of your business, Best Ever.
Account Name SSN
Best Ever XXX1234
Example 2: Business Account Set Up Under Taxpayer Identification Number (TIN) or Employer Identification Number (EIN)
If the business is registered with Levo under a TIN or EIN, the primary authorized user or account owner will need to log in by registering the business account and then give out permissions from the Authorized Users tab. For example, you own a business called Great Discoveries with the account number #xxx910 under TIN/EIN xxx1234. You log into your personal account xxx678 and see nothing. However, when you register your business account xxx910 and give yourself full access to your Great Discoveries account under the Authorized Users tab, you can now see my business account under my personal account.
Account Name TIN/EIN
Great Discoveries xxx1234
The app shows all accounts you're an owner of. If you're not seeing the account you wish to mobile deposit to, go into Accounts, then go to the three vertical dots on the upper right-hand corner and click Switch Member Account. Then Select a member account you want to mobile deposit to.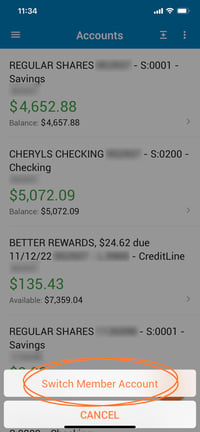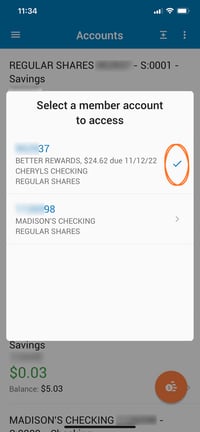 New & Updated Features
Learn more about some of the new features associated with the upgrade!