Perky Coffee
When you pick up a bag of Perky Coffee or a Big Frig Mug from Levo, 100% of the proceeds go to local "Lunch is Served". Help by getting your coffee here at Levo. You get great coffee and help your neighbor.

Calling All Coffee Lovers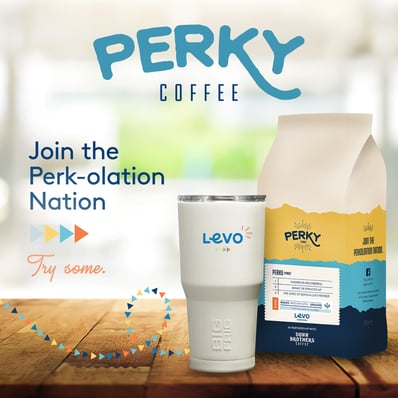 There's nothing more uplifting than a sip of a delicious cup of coffee first thing in the morning—except perhaps a cup of coffee that benefits the community even more than it benefits your disposition!
Introducing, "Perky" coffee from Levo Credit Union. Stop in and enjoy a nice warm cup of coffee at any of our Levo branches. As you enjoy your cup of coffee, we 're hoping you will love it so much, you will consider picking up a bag for yourself.
For a suggested donation of $10 get your very own 12 oz. bag of light roast blend of Perky. (Ground Coffee)
For a suggested donation of $20, keep your hot drinks got and cold drinks cold with a Big Frig mug. (Available in black, blue and white)
The best part?

100% of the proceeds will go to a local charity.
About Perky
Our Perky blend is a light roast created by our very own local Dunn Brothers Coffee.
Pick-Up
Coffee or mugs can be distributed through large window drive-thru's otherwise, will be offered inside. Thank you for helping us help local veterans!
Current Fund-Raiser:
Lunch is served

Lunch. It's something many of us take for granted. But there are many in our community who put in a full day of manual labor without the benefit of a noon meal. Lunch Is Served, Inc. is a nonprofit with the unique mission of delivering simple sack lunches for working men and women who are attempting to break the chains of poverty and hunger. The offering of free brown bag lunches represents more than simple nutrition. Each lunch bag is a tangible symbol of community encouragement and support created by volunteers and donations.
Lunch Is Served, Inc. receives financial and in-kind donations from a variety of local sources including individuals, churches, businesses, service organizations and the Sioux Empire United Way. We strive to be good stewards of our resources and work diligently to provide nutritious meals at a low cost. Lunch Is Served, Inc. needs your support to continue to serve this growing need in our community.
Your financial contribution will be used to provide nutritious brown bag lunches for the working poor in Sioux Falls:
$10 = feeds a worker for one week

$20 = feeds a worker for two weeks

$100 = feeds a worker for 2 months

$400 = feeds a worker for a year!
Please consider donating now to fight hunger in our community.
Choosing to pick up your coffee or mug at Levo, helps a a local worker struggling to make ends meet. Thank you!