Refer A Friend
You already know that your credit union is a great place to borrow - so tell your friends about us and you'll both earn cash.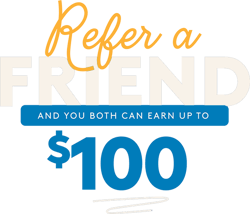 Refer A Friend
Simply invite a friend or family member to come to see us, and when they become a member and get a loan, we will pay you both up to $100.
Qualifications: If your friend is not a current member, he or she probably can be. We serve anyone who lives, works, worships or attends school in:
Minnehaha County
Lincoln County
Turner County
McCook County
Last Updated: Jul 26, 2023 4:33:23 PM

| Payment Levels | Payment Amounts |
| --- | --- |
| $5,000 - $9,999 | $50 to you and $50 to the borrower |
| $10,000 - $19,999 | $75 to you and $75 to the borrower |
| $20,000 + | $100 each to you and your friend |
*Invited person must be a new member and take out a new loan to qualify for the cash payment. The referring member will receive their cash payment at origination. The referred member will be paid if the account has been in good standing and has not be delinquent the first 6 months. Any loans paid off within six months of origination will not qualify for payment to the referred member. This flyer must be present at time of origination to qualify for payment.