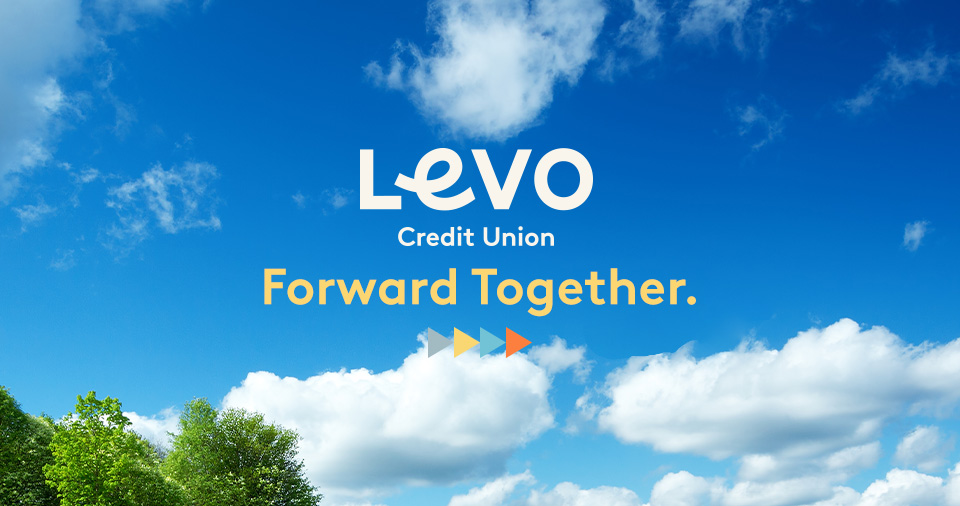 Levo Credit Union: Looking to the Future
With a tagline like "forward together," there's nothing we like doing as a credit union more than looking to the future. And with a new name in town, we're taking a fresh outlook on what it means to Levo in the present and well beyond. Namely, how are we planning on making Levo Credit Union the ideal banking home for Sioux Falls and the surrounding area.
Let's walk through how we will continue delivering for our members in the years to come.
A New Name
We recently underwent a lengthy review of our own Sioux Falls Fed community—the people you see behind the counters, the folks in the offices making lending decisions and making dreams come true for future homeowners and car-buyers, and the members who make it all possible by entrusting us with the money they've worked hard to save. And what came out of our discussions? A new name that more accurately represents who we always have been as an organization—one that's focused on uplifting its members. That meaning just so happens to be at the very root of the name, "Levo" — lift.
Where the Member Experience Goes Next
So the initial reaction is probably, "How is this name change going to affect how I worked with Sioux Falls Fed?" The beauty of it is—the answer is, "It won't." We're still the same people behind the scenes, our service level will continue to be a priority and our members can still access their funds the way they always have—simply at a new website. What's more, the power of redesigning our credit union's look to better match who we truly are at each level of the organization means that we'll be even better at communicating with our members and getting to the heart of what it is you truly need to meet your financial goals.
The service quality itself will only move upward and forward from here—our name and our brand not only reflect who we are but who are community is.
Why the Name Change?
Changing our name has been part of our long-term strategy for several years. Leadership crafted a plan last June 2020 that was approved by our board of directors. We partnered with a reputable company that has worked with others nationally for these types of transitions. Coupled with our team of experienced marketers, we have combined more than 1,000 hours of research and strategy into our project. We vetted more than 100 name options and Levo gives us the opportunity to differentiate in a market saturated with financial options. Differentiating will allow us to be more attractive to new and existing members, which will provide us economies of scale and more resources to invest in enhancement technologies in the future.
A Recommitment to Dedication
So what will you see from Levo Credit Union as we move into this new era? This is our opportunity to recommit to the Sioux Falls Fed promise, and increase our dedication to that promise in the years to come. This includes dedicating even more time to our community give-back efforts in some of our prioritized areas of focus such as financial education, youth programs and more. And it means a reinvestment in delivering the most competitive everyday interest rates in the Sioux Falls region and financial products you actually need in your daily life, custom-fit to ensure you're getting the most bang for your buck.
Because we know exactly the amount of time, drive and hustle you had to put in to make your money moves.
Ready to find out even more about what it is to "Levo?" Click here to see for yourself and make your own Levo happen.