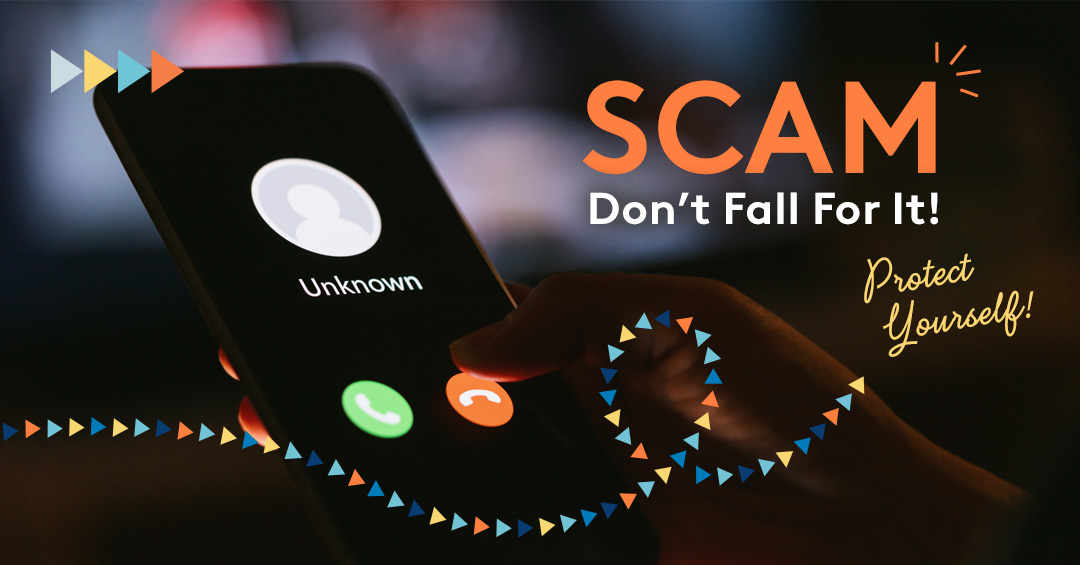 SCAM ALERT
A new scam is trying to get your home banking user name and password for the purpose of transferring money from your account. It's targeting people across the country – including Levo members - and we want to protect you.
Here's how it works:
A scammer spoofs the phone number of your bank or credit union and calls you so that it looks like it comes from your financial institution.
The caller states your home address for verification, then says there is suspicious activity on your debit card that caused your transactions to be blocked and a card to be reordered.
The scammer then asks for your home banking user name and password for additional verification.
Once the scammer gets that verification, they are able to make a person to person payment of up to $750 from your account.
Please don't fall victim to this scam!
Here are six ways to protect yourself from common scams:
Don't share your user name and password information with others. We will never call and ask for your user name and password like the scammer did in the example above. We have other ways to verify your identity.
Incorrect information about you. Listen carefully to the scammer and what they are telling you. For example, if the "fraud" they talk about is on a service you don't have with Levo, it's a sure sign this is a scam. In some of the cases with this particular scam, the scammer kept mentioning a debit card and the potential victim did not have a debit card with Levo.
Call us. We do call our members about about their accounts frequently for various reasons, including when we spot suspicious activity on your account. There's not a way for us to block fraudsters from spoofing Levo's phone number. We advise telling the caller you will call them right back, hanging up, and calling Levo at (605) 334-2471 during business hours. That way you know you have reached our Levo team and not someone trying to get your financial information.
Late calls. These calls asking for log-in information have been coming after business hours. We normally contact you before 6 p.m. when we call.
Errors. Email messages from scammers will often have grammatical errors or weird formatting, such as an old logo.
Links. A previous scam was a fraudster texting individuals as if the text came from Levo. The text informs you your card was added to a strange vendor's point of sale software and asks you to click on a link to unlink your card. When Levo sends you a text message, it will come from a 1-800 number to verify and give you an option to opt out – NOT a link. It also will have the last four digits of your card number.
Scam text that is NOT from Levo: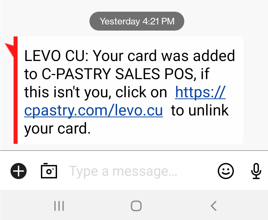 Example of a text from Levo: